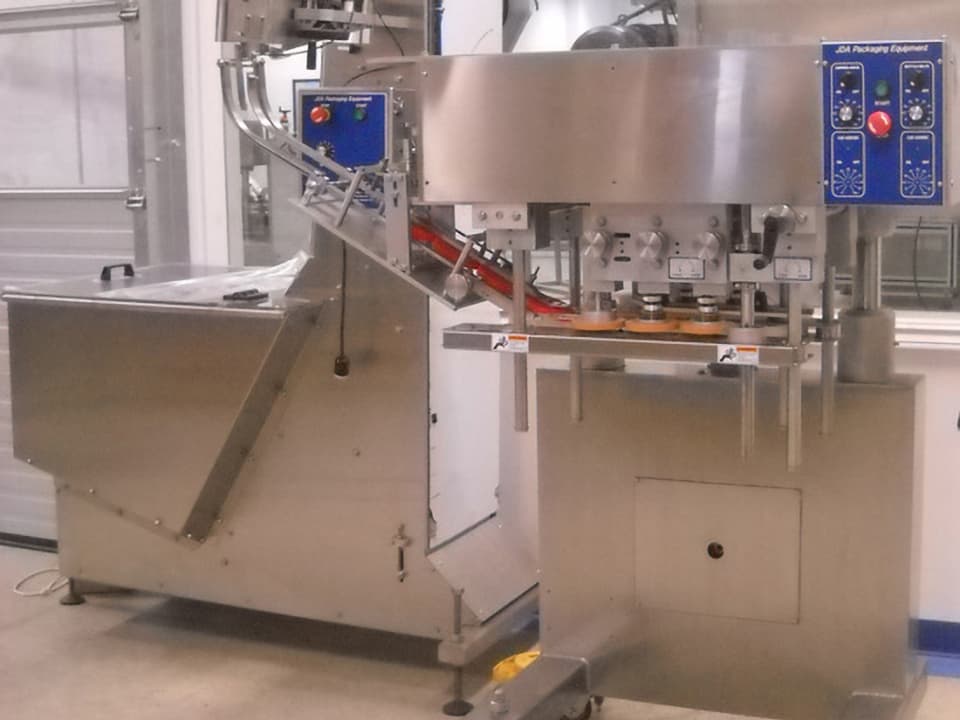 Model ProCap-1
Our automatic quill capper boasts a streamlined process facilitated by an array of cutting-edge components. The cap hopper, driven by a cap level sensor, orchestrates the operation through vibratory and inclined hoppers. As containers glide secured by lateral belts, rotary tangent discs deftly secure the caps in place, ensuring airtight seals with unparalleled accuracy.
The optional caps under demand feature, guided by a fibre optic sensor, optimizes cap delivery. Our commitment to tailored solutions shines with the bottle gripper belts, customizable in material, size, and separation, offering an ideal grasp for every container. The electric panel empowers operators, granting independent control over capping disc speed, gripper belt velocity, cap sorter rate, and cap hopper dynamics.
The torque adjustment feature elevates torque control, extends disc longevity, and minimizes cap markings, underscoring our dedication to flawless packaging precision.
Get a quick quote!
Simple, affordable pricing. Free product demos are also available.
Features
Fully adjustable for caps from 8 mm to 110 mm.
Fully adjustable from 1 inch to 14 inch high containers.
Heavy duty 304 Stainless steel welded C frame.
Speed to 150 ppm.
All hand crank adjustments for fast simple changeovers
4 adjustable Clutches for cap torque setting.
Mounted onto casters with threaded leveling fe
Vibratory cap unscrambler
3 cu ft capacity bulk cap hopper
"Mike and the team helped us choose a dry filling system. They spent time with us and demonstrated the machine using a number of products we brought to their site."

Neil Horner
"As a contract manufacturer and co-packer we are doing business with JDA for more than 15 years for machinery, parts and repairs. They are great team, professional, knowledgeable and helpful. "

Iman Navab
"Far better quality than what we were expecting. Great value for the money. The most important feature that I hadn't considered was the after delivery service."

Jeff Gamble
"Knowledgeable people to deal with. Top notch service and after purchase care. Amazing experience overall."

Derek Gravelle
"Great Canadian company to work with. Our plant is full of their equipment, and it works. We have a JDA-1 labeller on our bottling line that's been going for 14 years!"

T. Grant
"I am 40 years in my industry and have purchased a lot of equipment. JDA get my full recommendation. You can count on the company and their equiptment."

Ted Kasnetsis
Why choose JDA Progress for your business?
In-stock
In-stock packaging equipment and parts for fast delivery.
Warranty
Receive a 1 year warranty on all machines and parts.
Value
Competitive pricing and expertise in choosing packaging solutions.
Support
Excellent after sales support for all packaging machines.