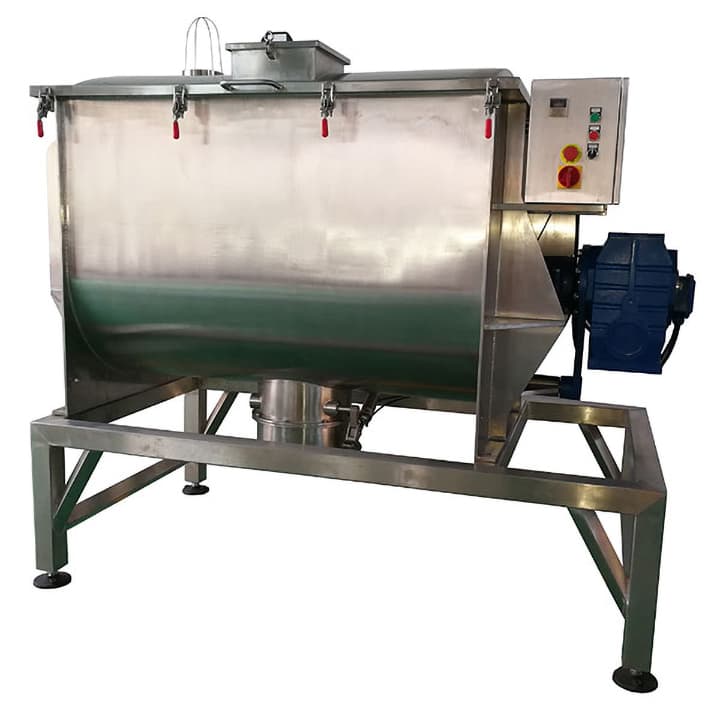 Our ribbon blender is a versatile and widely used mixing equipment designed to blend dry or semi-dry materials uniformly, making it an essential tool in various industries that require efficient and consistent mixing of bulk solids.
It consists of a large, horizontal trough-shaped container with a set of inner and outer helical agitators, often referred to as ribbons, that move the materials in opposite directions. The ribbons are shaped like a double helix and are designed to efficiently mix and blend ingredients.
Six models to choose from: 7, 10, 18, 35, 53, 70 cu ft.
Get a quick quote!
Simple, affordable pricing. Free product demos are also available.
Features
Commonly used in the food, chemical, and Pharma industries for quick mixing of dry granular & powders
Heavy gauge 304 stainless steel construction with welded end plates
Standard packing shaft sealing thus avoiding any type of contamination
Blending area comes with hinged cover
Operator safety grid in stainless steel with safety sensor standard
Butterfly valve for product discharge at bottom centre
Complete stainless steel construction (no paint)
Direct drive heavy duty helicoil drive system
All welds ground smooth for high quality uniform finish
Power: 220, 3 phase, 50/60 Hz. is most common (other voltage available upon request)
Mixing Capacity (kg/lbs): 175/350, 250/500, 400/800, 700/1400, 1060/2120, 1400/2800
Mixing Capacity (liter): 200, 300, 500, 1000, 1500, 2000
Horsepower: 5, 7.5, 10, 15, 20, 30
Power: 220 VAC & 550 VAC
"Mike and the team helped us choose a dry filling system. They spent time with us and demonstrated the machine using a number of products we brought to their site."

Neil Horner
"As a contract manufacturer and co-packer we are doing business with JDA for more than 15 years for machinery, parts and repairs. They are great team, professional, knowledgeable and helpful. "

Iman Navab
"Far better quality than what we were expecting. Great value for the money. The most important feature that I hadn't considered was the after delivery service."

Jeff Gamble
"Knowledgeable people to deal with. Top notch service and after purchase care. Amazing experience overall."

Derek Gravelle
"Great Canadian company to work with. Our plant is full of their equipment, and it works. We have a JDA-1 labeller on our bottling line that's been going for 14 years!"

T. Grant
"I am 40 years in my industry and have purchased a lot of equipment. JDA get my full recommendation. You can count on the company and their equiptment."

Ted Kasnetsis
Why choose JDA Progress for your business?
In-stock
In-stock packaging equipment and parts for fast delivery.
Warranty
Receive a 1 year warranty on all machines and parts.
Value
Competitive pricing and expertise in choosing packaging solutions.
Support
Excellent after sales support for all packaging machines.