Vertical wrap around labeler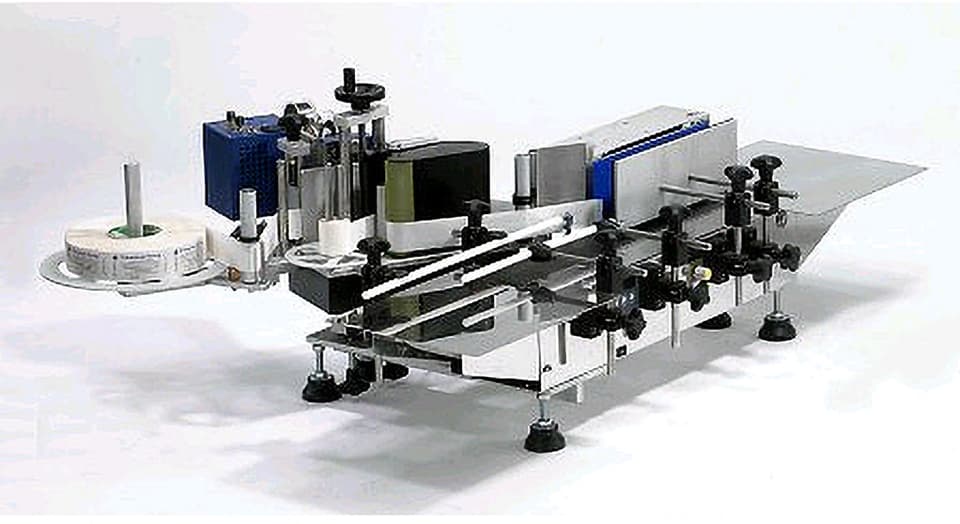 Model JDA-1
The JDA-1 wrap around labeling machine is used to label bottles, jars, cans, and containers. Its compact design and portability makes it a great entry level machine that can be placed on a tabletop or bench.
This machine is perfect for companies that have tried semi-automatic desktop labelers and are ready for a faster, reliable, and less expensive than an inline labeler.
Get a quick quote!
Simple, affordable pricing. Free product demos are also available.
Portability and flexibility
The JDA-1 labeling machine offers exceptional portability, allowing you to position it wherever it suits your needs. Whether on a tabletop, bench, or in-line for automated or semi-automated tasks, its easy mobility sets it apart from bulkier labeling machines.
User-friendly operation
Utilizing advanced sensors and user-friendly hand wheels, the JDA-1 ensures optimal efficiency while maintaining simplicity in its operations. Swift adjustments and seamless changeovers are a breeze with this labeling machine, making it a hassle-free choice for your labeling needs.
Low maintenance
Crafted from 304 stainless steel and anodized aluminum, the JDA-1 adheres to Good Manufacturing Practices (GMP) standards, guaranteeing its resilience even in harsh environments. Its uncomplicated design facilitates quick fixes and straightforward adjustments, enhancing its longevity and making maintenance a straightforward task. Features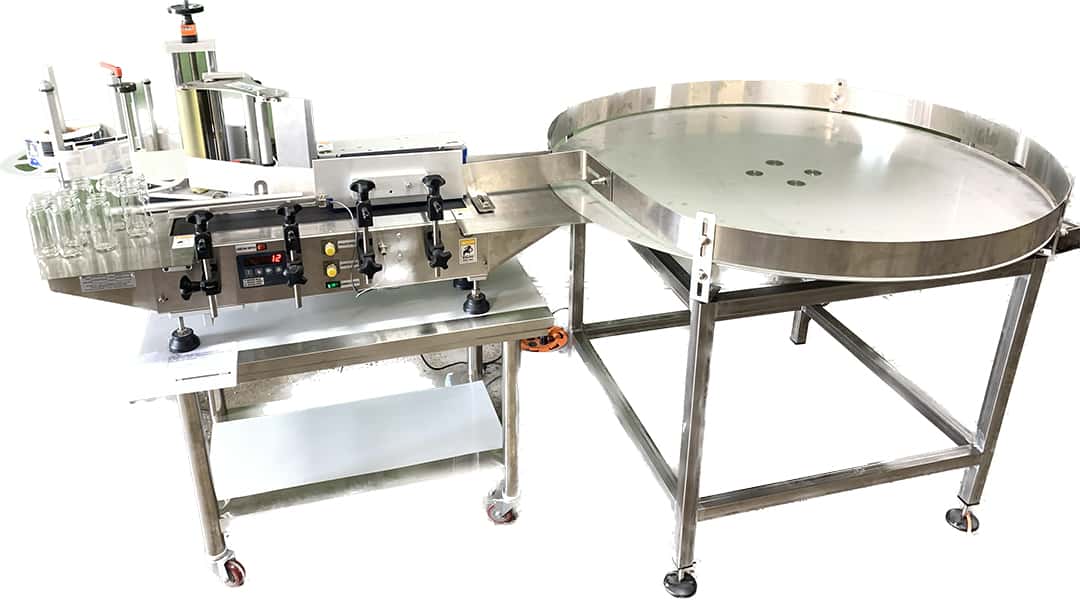 Features
Flexibility: Tailoring Labels to Your Needs
The JDA-1 labeling machine offers exceptional flexibility, allowing for effortless adjustments of product and label sensors with a simple one-button teach function. Achieve precise label placement on products through manual position setting, ensuring accuracy with every label.
Upgrade the JDA-1 seamlessly by activating hot-foil printer controls, streamlining label customization and ensuring precise code placement. The user-friendly operating interface makes transitioning to different labeling applications for varied product sizes and types a quick and straightforward process.
Accuracy: Precision in Labeling
The JDA-1's stepper motor meticulously counts steps for precise label delivery, guaranteeing fast and accurate application. Controls are fully synchronized, ensuring optimal performance of all components at a consistent speed.
Productivity: Streamlined Labeling Operations
Keep track of progress with the label count feature, offering precise monitoring during the production run. The container/production run counter provides real-time insight into daily production numbers.
Maintaining productivity, the JDA-1 features a battery-free microprocessor control system, retaining default settings and memory even during extended idle periods.
Practicality: Effortless Usage and Mobility
Experience practicality with the JDA-1's ease of movement, allowing convenient shifts to other production areas to accommodate changes in production or products. The machine is designed for easy access and adjustment, providing all necessary features with the removal of just a few screws.
All JDA Progress Industries labelers, including the JDA-1, are constructed with durable 304 stainless steel and anodized aluminum. These robust materials are meticulously treated to resist rusting and withstand harsh environments, ensuring longevity and reliability.
Specs
Dimensions
Maximum Label Width: 187mm (7.5")
Label Length: 10mm – 300mm (1/2" – 12")
Product Width: 10mm – 150mm (1/2" – 6")
Reel Inner Diameter: 75mm (3")
Reel Outer Diameter: 300mm (12")
Machine Dimensions (L x W x H): 1,400mm x 900mm x 480mm
Speed
Labeling Speed: 40 pieces/min
Power
Voltage: 110/220 VAC, 50/60Hz, 1 Phase
Consumption: 2 Amp
"Mike and the team helped us choose a dry filling system. They spent time with us and demonstrated the machine using a number of products we brought to their site."

Neil Horner
"As a contract manufacturer and co-packer we are doing business with JDA for more than 15 years for machinery, parts and repairs. They are great team, professional, knowledgeable and helpful. "

Iman Navab
"Far better quality than what we were expecting. Great value for the money. The most important feature that I hadn't considered was the after delivery service."

Jeff Gamble
"Knowledgeable people to deal with. Top notch service and after purchase care. Amazing experience overall."

Derek Gravelle
"Great Canadian company to work with. Our plant is full of their equipment, and it works. We have a JDA-1 labeller on our bottling line that's been going for 14 years!"

T. Grant
"I am 40 years in my industry and have purchased a lot of equipment. JDA get my full recommendation. You can count on the company and their equiptment."

Ted Kasnetsis
Why choose JDA Progress for your business?
In-stock
In-stock packaging equipment and parts for fast delivery.
Warranty
Receive a 1 year warranty on all machines and parts.
Value
Competitive pricing and expertise in choosing packaging solutions.
Support
Excellent after sales support for all packaging machines.